SMH, Karl Quinn, 13 May 2018
It is one of the most persistently vexatious dilemmas humanity has faced through the ages – how do you get kids to eat their vegetables – and now, one former MasterChef contestant reckons she has got the answer.
"If you want to know how to make vegetables cool for kids it's by making them part of the conversation, by teaching them how to think, not what to think," says Alice Zaslavsky, the big-glasses, bigger-personality former teacher who finished seventh on season four of Ten's cooking competition in 2012.
"And whatever you do, don't tell them it's healthy. Research shows that the moment you tell someone something is healthy for them their taste expectations go down."
Zaslavsky has put her thoughts, research and 18 months' of work into Phenomenom (yes, with an M), a multi-faceted program that works kind of like a pincer program, hitting kids both where they work (school) and where they play (YouTube).
"Kids are watching on average of 101 minutes of content a day on YouTube," Zaslavsky says excitedly. "Imagine if five or six minutes of that were about Brussels sprouts!"
The mind boggles (and Ita Buttrose recoils in horror) at the very thought. But Phenomenom is not some dry treatise on nutrition. It's more like a kids' sketch show, with comedy, animation, factoids and Zaslavsky playing a range of different characters, with a bunch of silly costumes and sillier accents, in the company of a range of guests and a regular cast of six children.
"When we researched this, the kids kept saying they wanted to see kids their own age in the shows. So they join me in the classroom, and a lot of the action is kid-led."
Phenomenom was born when Zaslavsky was approached by HORT Innovation, an R&D corporation funded by growers of nuts, seeds, fruits and vegetables, with a simple question: What would you do to make vegetables cool for kids? (The federal government is on board with funding too.)
It was a puzzler that landed firmly in Zaslavsky's sweet spot. In her life BM (before MasterChef) she was deputy head of humanities at Haileybury. There, she says, she was always looking for ways to integrate food into the classroom. "Food is a gateway for kids – everybody eats, everybody's curious about it, and it was a hook for learning."
Home economics was no longer part of the curriculum, but Zaslavsky – whose specialist area was history – hit on a winner with a medieval day she staged for her Year 8 students.
"We had a suckling pig on a spit, the kids had to go away and do their own independent research and then bring in a dish that might have been eaten in medieval times – and if they didn't bring a dish, they couldn't participate," she says.
Such tough love was crucial, she adds. "There has to be give and take, and when you give students a sense of agency, a sense of power, they will step up and deliver."
She thought that experience could form the basis of an elective subject on food and culture, but it was suggested that perhaps she might need to know a bit more about food to make that plan viable. So off she went each weekend for the next year to a chef-at-home course at William Angliss College, which is where she stumbled into auditions for MasterChef.
Though she'd seen a bit of the show she had never thought of throwing her toque into the ring. But suddenly she saw a way of making food seem cool to her students.
And that's exactly how it panned out: "Six months after the show, when I went back to school, the kids ran up to me and said, 'Oh my God it's Alice from MasterChef'."
She was none too pleased. "First up it was, 'Wait a minute, it's Ms Z, it's always been Ms Z'; and second, it was, 'Why are you into this now when you weren't this excited to hear what I had to say before, when I was your teacher for three years?'"
In short, she says, "I realised the power and the platform I had been given by entering their pop-cultural realm".
Since then, Zaslavsky has made a pretty good fist of a career in food media. But she insists she never lost sight of her initial motivation in entering the MasterChef kitchen.
"I wrote out a plan after the show on a big piece of paper on which I said I want to be a teacher, but bigger," she says.
Now, with Phenomenom's 25 short videos and a suite of 50 curriculum-aligned resources for students and teachers of grades 3 to 6 – across the subject areas of Science and Technology, English, the Arts, Health and PE, Maths and Humanities – being made available to schools throughout Australia from this week, she may be about to realise that ambition.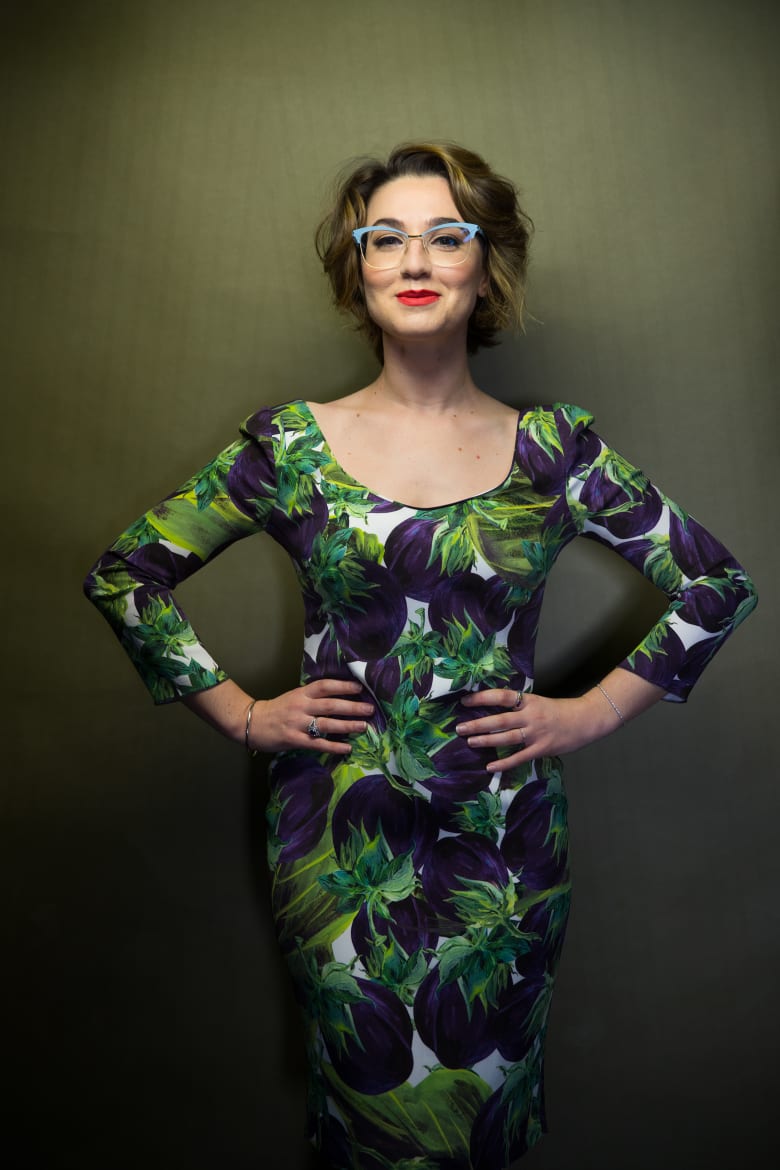 The challenge, though, remains. "Vegetables are a symbol of something much deeper," she says. "My belief is that vegetables are a key part of everyday life but we 'Other' them, because that's what we've been taught to do."
With Phenomenom, she's hoping to invert that equation.
"If a kid's got an issue with carrots, then they find out carrots are also purple, they're more likely to move beyond 'urgh, carrots'," she says.
"Food is the first way we role-model behaviours around exploration and curiosity, and if they they've got some information that's quirky, there's more chance they might engage with it."